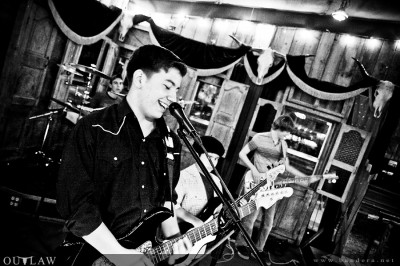 I had the great pleasure of shooting Bandera High School sophomore Ben Guajardo's new band, Sons of the Right, at the Bandera Saloon this Saturday. Great sounds from such a young group!
You can find my full album of photos from the concert in the Bandera.net Gallery:
Sons of the Right Concert at Bandera Saloon – Jan. 29, 2011
And below, some background information on the new band.
—
Bandera teen leads new Sons of the Right band
Bandera High School sophomore Ben Guajardo and a pair of friends from Boerne Champion have formed a new local band, Songs of the Right.
Guajardo, 15, is front man and lead guitar player. He is joined by Andrew Irwin, 17, on bass guitar and vocals; and David Cacy, 16, on drums and vocals. Irwin and Cacy are juniors at Boerne Champion High School.
The band plays classic rock, country, funk and blues. They describe themselves as a blues-based country rock power trio.
The name of the band comes from Guajardo's first name Benjamin, which means "Sons of the right hand" in Hebrew. Guajardo also plays drums and is a classically-trained pianist.
In addition to bass, Irwin plays guitar and drums. As well as drums, Cacy also plays guitar and piano.
The trio met at an open mic night for young musicians in Boerne and have played together for three months, sharing a love of music and live performance.
The band played the Bandera Saloon on Saturday, Jan. 29, with Ben's little brother Luis on bass guitar. Luis has played the bass for two months and will continue to play with the band as a featured member. He attends the third grade at Alkek Elementary.
Sons of the Right will play the Old Peanut Mill Steakhouse in Mason on Feb. 19 and against at the Bandera Saloon on Feb. 25.