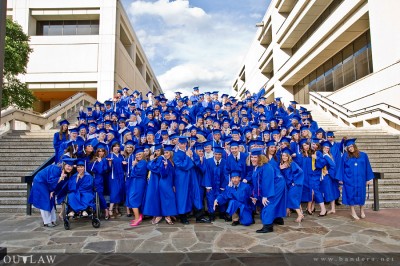 Update: You can find the BHS graduation ceremony photos online in the Bandera.net Gallery.
Good morning, mates!
Bandera High School graduation 2010 is only a few days away, so here's some updated info regarding the photos Outlaw will be doing at the ceremony:
Q: What photos will I get with my order?
A: On your order form, photos listed as "Individual" are images of the graduate receiving their diploma as they cross the stage. The standard group photo in the package is the full class photo, but in the a la carte area, you can also purchase K-12 and Honor Grads group photos.
Q: Do I have to buy a package to buy a la carte images?
A: Yes – your shipping fee is wrapped into the package price and to keep the price on a la carte images down, there is no shipping fee built into their cost.
Q: Can I bring you my order instead of mailing it?
A: Yes, you can drop off your order and payment at my office at the Bandera Bulletin newspaper at 1110 Main Street, Bandera. You can leave it with anyone here and it will end up on my desk.
Q: Can I bring you my order at graduation?
A: Interestingly, not this year. UTSA has changed their rules regarding vendors, and we cannot accept any money at the graduation ceremony. You're welcome to mail your order in or bring it by the Bulletin.
Q: Can I mail in or bring in my order after graduation?
A: Yes, we accept graduation order forms for at least a month after graduation. The only way you pay more is if you wait and buy your images from the Bandera.net galleries individually.
Q: Do you photograph every graduate, regardless of whether or not they have submitted an order?
A: Yes, we photograph everyone. You can view photos from the ceremony online at Bandera.net afterward.
Q: What do I do if I have multiple graduates?
A: You can use a single form and just make additional notes as necessary, or make a copy of your form and submit two orders – the prices are all the same.
Q: Do you handle the advertising for the graduation special section for the Bulletin?
A: I do not – you can e-mail Christina at Christina@banderabulletin.com or call her at 830-796-3718 for information.
Q: What if I have more questions?
A: You can comment on this blog post, e-mail me at James@outlawphotography.net, or call/text me at 830-688-1564. Thank you so much for supporting The Outlaw!
Tags: Bandera, Bandera High School, photos