Bandera High School Graduation 2009 photo gallery posted
Author: James Taylor | Filed under:
Community Journalism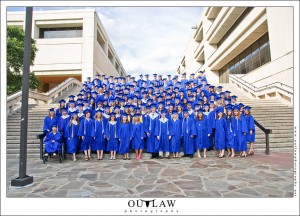 Thanks to everyone who has already ordered photos of their graduates! Your images were sent to the lab on Sunday for printing and most shipped Monday. You should receive your package via USPS very soon!
(To answer our most Frequently Asked Question, yes, you can still send in your graduation order form and get early-bird prices!)
There are plenty of great outtakes and other images available for viewing and purchase in our online gallery. Don't miss the hat toss and post-graduation hug-fest, as well as the NSFW Class of 2009 "Goofy" class photos. I take no responsibility for Caleb Murphy's outbursts. I don't think anyone could.
I like to keep in touch with Bandera graduates, just to see how you guys fare in life after Bantucky. E-mail me and let me know your plans for the future and I will send you a link to the full-size, hi-res copies of the 2009 Class Goofy photos. Trust me – these have to be seen in high-def glory to appreciate fully. We have never before done a goofy class shot at graduation, and these are epic.
Enjoy! If you would like to purchase any of these photos, feel free to use the online shopping cart or e-mail me image numbers and sizes and I will be happy to send over an invoice. If you have any questions, please don't hesitate to contact me.
Thank you, as always, for supporting The Outlaw!
Tags: Bandera, Bandera Bulldogs, Bandera Lady Bulldogs, photos