Photos: Mock Accident at Bandera High School
Author: James Taylor | Filed under:
Community Journalism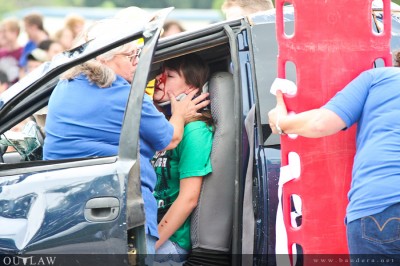 The images I get from the mock accidents held at Bandera High School are always disturbingly realistic. I've covered spot news, which often means fires and wrecks, for 11 years in Bandera County. The photos I get from these mock accidents, held at the school in front of an assemblage of all BHS students, don't differ much from my usual coverage of a wreck.
At an actual wreck, I am usually further back, staying out of the way of fire, EMS, and law enforcement doing their jobs. And being as the Bulletin is a small community paper, we also don't shoot victims or anything particularly graphic. So these images are a bit closer, and definitely more vivid, than the types of images I make at an actual wreck scene.
Hopefully this exercise today, which shut down Old San Antonio Hwy. in front of the school, will give students pause and reason to slow down, pay attention, and stay sharp on the roads, especially leading up to prom.
You can find my full set of images from today's mock accident in the Bandera.net Gallery:
Mock Accident at Bandera High School – May 11, 2010
Tags: Bandera, Bandera High School