Texas and Cowboy magazines on sale at Amazon.com
Author: James Taylor | Filed under:
Community Journalism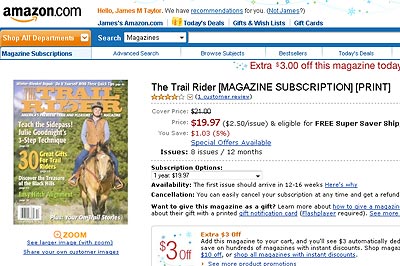 I am a big reader – books, magazines, blogs, newspapers, anything I can get my hands on.
Magazines especially provide a great content-to-cost ratio, and a monthly subscription keeps that content fresh and tasty.
Amazon.com is doing a limited-time sale right now on many magazines, including quite a few cowboy, horse, and Texas-themed mags I thought Bandera.net readers might be interested in, such as:
I don't have an Amazon Affiliate profile, so these go straight to the Amazon product pages for these mags. I'm renewing several of my favorites like Fast Company, Esquire, and Inc. while the sale is on. As I understand it, the sale ends on Dec. 19.