Bandera County Top Stories
It was a hot time on the old lake for Independence Day! You can partake of the above video of an explosive fireworks mishap at Cousin's Point on Medina Lake, courtesy of YouTuber TexasSharpshooter. Nobody was reported injured. We wrote a brief snippet in the Bulletin at the end of this story, and KSAT12 has video coverage here, WOAI4 coverage here. Catch the view from shore, here.
Have news to share? Post a comment below, drop me an e-mail, or call/text me at 830-688-1564.
—
Bandera High School senior Gatlin Magee lost his right index finger and some muscle in his hand after a fireworks accident July 4. He is undergoing a series of surgeries this week after a mortar blew up in his hand. When shooting off fireworks for Independence Day, a mortar kit fell over, and Gatlin protected his 10 year old brother from injury by stepping between him and the mortar.
Read about Gatlin's story on the Bulletin web site, then check out the video coverage by KENS5 News and KSAT12 News.
Other Bulletin headline stories this week include:
Bandera County In The News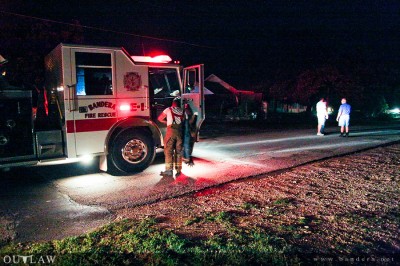 (Above, Bandera County Fire & Rescue responds to a late-night transformer blow-out at 14th and Hackberry streets. Sparks, flashes of electricity, and loud popping noises drew nearby residents out of their homes while the transformer put on a show.)
The Tulsa World reports that Fair Meadows jockey Tad Leggett, father of Bandera High School graduate Tiffany Leggett, broke his neck last week when his horse fell after a race.
Bandera High School varsity softball star pitcher Amber Neal was named All State Honorable Mention this week by the Texas Sports Writers Association. According to coach Roy Klein, she is a junior-to-be pitcher who had 363 strikeouts, a 0.98 ERA, and hit .535 last season. I look forward to nice mileage checks from the Bulletin next season while following the Lady Dogs across the state in the playoffs.
Read about Bandera's upcoming big bash to celebrate the National Day of the American Cowboy in this month's edition of the Hill Country Current.
True West Magazine also has a short feature on Bandera as "a down-home kind of place where you can always dance the two step," including an interview with local event coordinator and fifth-generation Bandera Genie Strickland.
Kay Keen joins Bandera ISD as assistant principal at Bandera High School. Jo Ellen Fisk has joined Hondo ISD as principal of their Wolls Intermediate School.
The Billings Gazette Wyoming Bureau reports a "Buffalo Bill Cody look-alike…from Bandera, Texas," participated in their Fourth of July parade this weekend.
The Bandera County Board of Realtors blogged recently about their upcoming barbecue at the Bandera County River Park on July 13.
Karin Reid Facebooked on Saturday that she had a great visit to the Koyote Ranch in Medina. "Of all the campgrounds we've stayed at, this rocks."
Other Bandera County News Snippets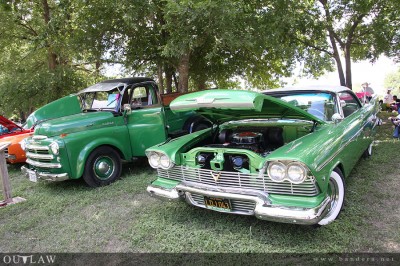 (Above, a pair of green monsters at the Bandera Riverfest Car Show.)
On July 27, 1996, a home-built airplane crashed on Hwy. 46 near Pipe Creek, killing its two passengers. You can read the full account at AviationCrashMap.com.
Meet Berty, an 11-year-old female Blue-and-Gold Macaw from Pipe Creek, Texas.
Did you know there's a hiking shoe called the Bandera, so named after our beloved Cowboy Capital, sold as part of the George Strait collection by Justin? There's also a Bandera Leather Jacket which "boasts a supple hand for the comfortable heft of a heavyweight flannel overshirt." It also sports "distinctive, distinctively trimmed cuffs…" I kid you not!
Sticking with related George Straight topics, Blogger Mike Kueber writes a bit this week about Bandera's own Bruce Robison and the song "Wrapped" he wrote which ended up on a George Strait album.
Over on FAQS.org, a site dedicated to technology patents, you can read about Pipe Creeker James C. Lyman's patent application for a "system and method for managing a herd of animals possibly requiring medical treatment" using tags and core temperature data collected "using a special, non-contacting core temperature sensor."
Californian Maria Berry blogs about her holiday visit last week to Bandera, Texas. The highlight of her trip? Friday Night Rodeo.
Bandera County Videos
We Are Austin has a nice story + video feature on Bandera this week as a part of their Field Trip on a Fill Up series. "The music is lively, the dance floor is full, and the beverages are cold."
Carolyn and Bill Pollack of the QVC Channel recently visited the Dixie Dude Ranch in Bandera and posted a series of videos from their trip over on YouTube.
Although not in Bandera County, don't miss this video of a fireworks display gone haywire at Palmyra Middle School that sent 11 people, including four kids, to the hospital.
Rome went base jumping at Medina Lake this week, with video posted to YouTube on July 5.
Bandera County Photos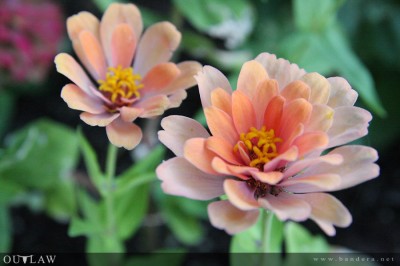 (Above, some of the lovely flowers planted in the community garden at the Silver Sage Corral.)
Austin Photographer Mirian Adrian posted some lovely photos of her family's reunion held at the Medina River Ranch Resort here in Bandera.
Poor BuellXB.com forum member keisersozae didn't make it 18 minutes out of Bandera on his bike before he and his friend were ticketed by DPS for doing 79 in a 70 near Tarpley. See his photos of their trip from and back to Bandera and around RR 336, taken with an HTC Evo smartphone, here.
Twitterer @lalorek of Austin+San Antonio shares photos from Medina Lake and the OST Restaurant in Bandera.
Reported by the Bandera County Outlaw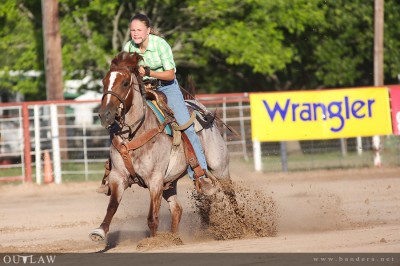 (Above, a young rider picks up speed during the Bandera County 4H Horse Project Youth Rodeo at Mansfield Park.)
If you're a friend on Facebook, you: participated in an enthusiastic discussion about bringing an Old Main Street style single-screen movie theater to Bandera; saw eyewitness photos of the fireworks explosion at Medina Lake; got a live report of police scanner chatter when 17-year-old BHS senior Gatlin Magee had a fireworks mortar explode in his hand; saw photos of the fireworks show at Six Flags Fiesta Texas; and saw my photo of the beautiful skies over the Bandera County Courthouse as I walked to the Bandera City Council meeting last week.
If you follow me on Twitter @BanderaOutlaw, you: saw retweets of KSAT12 News coverage of tar balls showing up on the Texas coast; saw an update on the UTSA Roadrunners football team, featuring Bandera QB Cole Hubble, about their signing up to play Virginia in 2013-14; saw KENS5′s Great Day SA Daily Deal for Tootie Pies; and saw retweets of weather news about Hurricane Alex.
For all the latest Bandera County buzz, catch up with me on Facebook, Twitter @BanderaOutlaw, here on the home of the Bandera County Outlaw at Bandera.net, or weekly in the Bandera Bulletin newspaper.
If you have news to share, drop me a e-mail, hit me up on Facebook, or call/text me at 830-688-1564. If you'd like to comment on this week's news, feel free to speak your mind below or over on Facebook.
Tags: Bandera, Bandera High School, Bandera Lady Bulldogs, photos, softball, Sports
One Response to "Bandera County Online News Roundup for July 7, 2010"
another great page James
Im diggin those GS/Justin Bandera Hiking Boots & Bandera Jacket!!

tough luck on that speeding ticket but awesome photos he captured with a cellphone !

I have to agree re: Koyote Ranch in Medina, it is pretty cool!

great shot – Beautiful flowers
Leave a Reply