Bandera soccer playoffs tonight
Author: James Taylor | Filed under:
Sports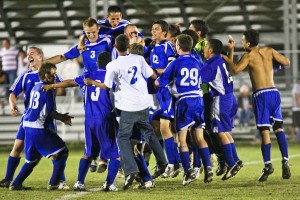 Received this link from Brad Domitrovich, communications director at BISD, with information on tonight's boys and girls soccer playoff games.
Looks like the boys' game at Boerne Champion High School has been moved to 8 p.m. instead of 7 p.m. The girls' game remains at Bandera Middle School at 7 p.m.
Boerne ISD has a link up for directions to the Boerne ISD Stadium over here.
I'm shooting Medina Bobcats baseball this evening at 4:30 p.m., will likely swing by the girls' game at 7 p.m., and then head to Boerne in time for the start of the boys' game. Look for the photos to go online in the near future!
See you all tonight!
Tags: Bandera, Bandera Bulldogs, Bandera Lady Bulldogs, Medina, Medina Bobcats, soccer, Sports