Photos: Ken Lane posts Bandera vs. Llano pics
Author: James Taylor | Filed under:
Sports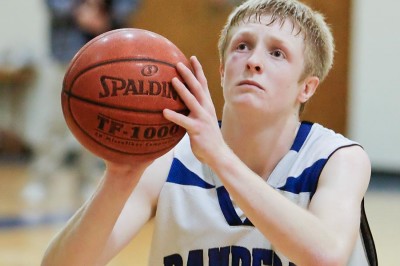 Lakehills freelance photographer Ken Lane just posted his series of sports photos from last night's Bandera Bulldogs vs. Llano Yellowjackets basketball games, freshmen, JV and varsity.
Here's his commentary on the games:
—
I arrived in time to shoot the last half of the freshman game and a bit of the second quarter. Llano struggled to keep up with Bandera's freshman and when the game ended, Bandera freshman had 40 to Llano's 17.
The JV game was a stronger rout although the scores were somewhat closer, 60-42. Llano had a couple players throwing elbows, and fortunately it was caught by the refs; Llano paid the piper.
The Varsity game was much closer. The lead swapped back and forth several times with neither side able to draw away by more than four points. Within the last five minutes of the game Llano looked like they were not going to be able to stop Bandera from winning if they didn't up their game.
Instead they chose to get very physical. Bandera has a hard time stretching their lead as every time they tried for a lay-up under the goal, Llano applied a "lay-on-top" of Bandera. Incredibly, the referee didn't seem to see a problem with that.
At one point, a Llano player so soundly clobbered Jeffrey Jensen when he was going up for a lay-up that he temporarily came out of the game and apologized to the Bandera coaches. That didn't keep another Llano player from grabbing a Bandera jersey and trying to physically throw the player in it out of bounds. Yeah, that didn't go over too well either.
If those events weren't enough, a scramble for the ball almost came to fisticuffs due to the manner in which the Llano player went after the ball.
Too physical for high school ball and unprofessional if done in the pros.
With 31 seconds left in the varsity game and a score of 38-36 in favor of Bandera, Llano fouled Jensen, who put two points on the board. Llano immediately fouled him again and Jensen put one of two points on the board.
Bandera held Llano to 36 and the game ended 41-36, Bandera.
Tags: Bandera, Bandera Bulldogs, basketball, photos, Sports