Bandera lands on Digg via National Geographic
Author: James Taylor | Filed under:
Community Journalism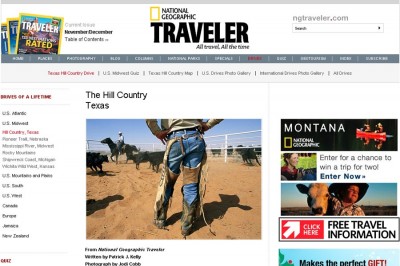 National Geographic Traveler's list of the top 50 Drives of a Lifetime, featuring the World's Greatest Scenic Routes, landed on social bookmarking site Digg.com's front page today.
And guess which route is featured alongside drives along the Amalfi Coast of Italy, the Florida Keys, and the Pirate Route of Jamaica? Yep, the Texas Hill Country.
And guess which town gets first mention along that route? Indeed, the "hell-raising Cowboy Capital of The World," Bandera, Texas.
The article mentions Bandera's massive chicken-fried steaks, Arkey Blue's Silver Dollar saloon, the Frontier Times Museum, and OST (Old Spanish Trail).
From Bandera the route winds through Kerrville, Fredericksburg, Enchanted Roch, Johnson City, New Braunfels (where my wife is now with our kids at the children's museum) and San Antonio.
Being featured on the front page of Digg.com is a rare honor and creates a huge amount of web traffic to the linked web sites. One strategy of some internet moneymakers is to create a web site at a cost of only a few dollars, then post photos, articles, and videos until one is featured on Digg's front page. They then sell the domain for a big profit.
The Bandera-mentioning National Geographic article appears today alongside "4th Generation iPhone Now Being Tested," "Puppy VS. Praying Mantis," and "The Paint-Less Coca-Cola Would Save Earth One Can at a Time."
Tags: Community Journalism