Photos: Bandera Holiday Parade and Cowboy Campfire Christmas
Author: James Taylor | Filed under:
Community Journalism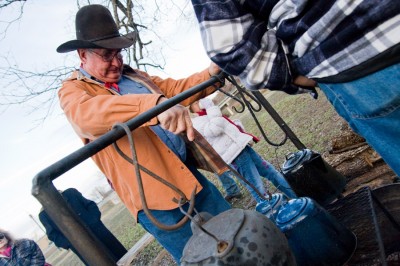 Parades are a fun and dynamic event to shoot for a photographer. You never know what your light's going to be like, you never know who or what you'll see in the parade, and you almost always have 360 degrees of access to shoot from.
Outlaw Goodwill Ambassador Canon and I took in this morning's Holiday Parade from the Courthouse lawn to snap a few close-ups of the floats and their riders. Bulletin editor Jessica Hawley-Jerome was officially on-duty shooting the parade for the newspaper, so I double-teamed from a different angle. When we work an event together, we try to catch different people and different perspectives to give the best coverage as we can.
Outlaw Baby Photographer Jacklen and Outlaw Spokesmodel McCayla were on board the Girl Scouts float and had fun tossing candy to parade-goers.
The evening turned extra cold for the Cowboy Campfire Christmas with the Kemp Family Singers, Lee Haile and his stories, the Riverside Players' presentation of the nativity, and other performances down at the Bandera City Park, my favorite place to take photos in the wide world.
You can find all of my images from the two events in the Bandera.net Gallery: Bandera Holiday Parade here, and Cowboy Campfire Christmas here.
Tags: Community Journalism, photos