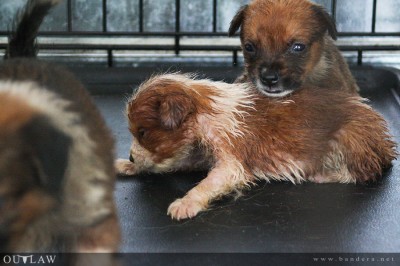 Welcome to the third edition of my weekly Bandera County Online News Roundup, a new feature here on Bandera.net. Have news to share? Post below, drop me an e-mail, or call/text me at 830-688-1564.
Bandera County Top Stories
Animals left behind – This week's headline story comes courtesy of Bandera Bulletin Managing Editor Jessica Hawley-Jerome. Her lead article for the newspaper talks about how "the county's left hand does not always know what its right hand is doing" when it comes to Animal Control, and how the animals are paying the price.
I shot the photography for the story, and I can back up 100% the veracity of Jessica's account.
You can see my images from our visit to the county and city facilities in the Bandera.net Gallery.
You can share your view with the community on this or any other topic by writing the newspaper. Letters to The Editor may be e-mailed to news@banderabulletin.com, mailed to P.O. Box 697, Bandera, TX 78003, or delivered to our office at 1110 Main St. in Bandera.
—
Other stories from the Bulletin this week include Smile, you're on BISD camera (16 security cameras installed at Bandera High School), Motorcyclist killed in two-vehicle collision, City gives blessing for Sister City Partnership pins, Electronic pollbooks latest in voting technology.
Bandera County News Across The Web
In The News
John Woestendiek, former newspaper reporter and Pulitzer Prize winner turned book author and blogger at ohmidog!, visited the Utopia Animal Rescue Ranch in Medina on Monday and shared kind words and photos from his experience on his blog.
He visited with Nancy Parker-Simons, rescue ranch caretaker, local author and prolific blogger at her Cousin Nancy web site, who wrote about his visit here.
Woestendiek left Baltimore last month on a cross-country trip with his dog Ace. Bandera County was one stop along the way as he visits "those parts of [the country] that are dog-friendly and in the red zones of that Verizon wireless map."
—
The Dallas Morning News posted Sunday a glowing review of Karen Valby's book, "Welcome to Utopia – Notes From a Small Town."
The book was written after Valby time spent in Utopia, Texas, in 2006 producing an article for Entertainment Weekly.
The review in part reads, "She came, she confesses, with an agenda: Her editors sent her to find a place 'somewhere in America without popular culture.' For the most part, she finds what she's looking for – after all, the nearest movie theater is a 50-minute drive away in Uvalde. She also discovers a town with a rich inner life, one that is a microcosm of the challenges small towns face all over the country, be it the loss of loved ones, the wars in Afghanistan and Iraq, or young people longing to escape to the excitement of bigger cities, in this case San Antonio and Austin…"
You can read an excerpt from the book thanks to National Public Radio and WBUR. The Austin American-Statesman interviewed Valby last week. For more Welcome to Utopia links, see the Videos section of my June 4 news roundup.
As of June 16, Welcome to Utopia has a 3.5 out of 5 star rating on Amazon.com. My copy is on its way.
—
The Pittsburgh Tribune-Review posted Monday this excellent article about Lakehills resident Chuck Felton, recalling the "terror of TB, life at Cresson Sanatorium." Felton documents his 16 months at the tuberculosis sanatorium, begun at the age of 17, on his web site, which has become an exhaustive resource for those who experienced sanatoriums in the 1900s.
Other Snippets
In a slide show posted Monday entitled "Where America's Money is Moving," Forbes Magazine highlighted Bandera County as the No. 6 county in the nation for difference in per-capita income between incoming households and existing households. The arriving average household income per capita is $37,849, with most folks moving here from Bexar County.
Are you interested in Bandera's sister city Strzelce Opolskie and the Sister City Partnership Program? Visit the Cowboys from Strzelce Opolskie blog to see how our friends from Poland live and their interactions with Bandera, including host family profiles.
Bandera ISD released information on a Summer Tennis for Bandera County program led by Bandera High School Tennis Coach Ginger Postert. You can e-mail her for more information.
Bonjie Wernecke, founder and director of Door of Hope Ministries, will be a guest speaker at the Women of Wisdom Retreat in Pipe Creek at the Mount Zion Christian Mission July 9-11. Other speakers include Pastor JoAnne Squyers of His Hands Church in Boerne and Andrea Jackson, author of "Living for God & Not for Yourself."
This poor bloke lost his iPhone at the Mini Mart in Bandera. $350 reward offered, no questions asked. Have you spotted it?
The Medina United Methodist Church maintains a strong online presence, including weekly audio services posted by Pastor Bill Stegemueller. This week's series is on "Death in Adam… LIFE in Christ."
I ran across a copy of author Selby Parker's book "The Man From Bandera" for sale on eBay Australia, and thought to share the Bulletin article Jessica Hawley-Jerome wrote about Parker in 2006. Parker has penned several books, historical and fictional, set in the Bandera area.
Did you know that the No. 3 reason Travelocity.com gives for why folks should visit the metropolis of San Antonio is to "Get out of dodge" and "Head to the hills and check out Bandera, Texas"? Travelocity's editors say Bandera is "the place to get your cowboy groove on. With your choice of dude ranches, you'll be roping cattle and horseback riding like a pro."
Bandera Electric Coop. tweeted a link to their Together We Save program. Peak price hours for electricity run 1 p.m. to 6 p.m., which is the perfect time to sneak off to the Medina River, if you ask me.
According to Jim Rose Remembers Radio, Bandera singer-songwriter Bruce Robison celebrated his birthday on June 11. He was born in 1966.
I couldn't help but mention this delightful Vintage Egg Beater on sale through eBay by a seller from Pipe Creek, Texas. Don't miss the built-in splash guard.
Videos
Go behind the scenes of Bandera High School alumnus and filmmaker Reagan Peterson's new movie College House with this video on Facebook. I saw some other Bandera graduates in the video, including stage actor Bryce Jeter and filmmaker Than Niles. I wrote this story about Reagan's Call Center Series of webisodes for the Bulletin in March. He and I were in Business Professionals of America together at BHS on the web design team.
An Oak Wilt trenching program is highlighted in this video near Bandera, TX, by Dr. Dave Appel, program leader, Texas AgriLife extension, Department of Plant Pathology and Microbiology with Texas A&M. The video was posted June 10 by the Central Texas Conservation Partnership, a collaboration between public and private natural resource organizations.
Douglas78213 posted a couple of videos of Angel Cove at Medina Lake from 2009 when the water hit 50 feet low. The lake looks vastly different in these two videos posted this week by fumo7887 and lollygagger402.
Photos
I posted a month's worth of fresh Bandera County news and event photo galleries here on Bandera.net Monday night. Includes Bandera, Medina, Utopia high school graduations; Lady Bulldogs softball vs. Ingleside; transformer blow-out in Bandera; Fox Family Living Center ribbon cutting; Medina One Act Play presents Dancing at Lughnasa (their state championship-winning play); proclamation signings by County Judge Richard Evans for boating safety, Older Americans Month; and the CCRA Memorial Day PRCA Rodeo at Mansfield Park.
Medina coach Lovey Sockol posted this photo on Facebook of a massive scorpion killed in her house. Lots of chatter on Facebook and Twitter this month about home invasions by scorpions. I've had good success with Philip's Pest Control for keeping out scorpions and spiders both. Cats, chickens, and meerkats (video proof!) are good scorpion killers. Good sense always helps: keep stacked rocks, wood, leaves and debris away from your house; seal windows, doors, and vents; don't leave shoes or clothes on the floor and keep bedsheets from touching the floor; and shake out your shoes and clothes before putting them on.
Photographer Ashton Rodgers blogged on Sunday this gorgeous landscape photo taken near Bandera. Rodgers recently moved to San Antonio to work with Helotes photographer Andy Mahr, according to his blog. You can view Rodgers' portfolio on his web site.
Gerard Martinez of Lubbock shared photos of his visit to the trails of Bandera, Texas, on his blog, The Boy Who Loves To Run.
Blogger and admitted party girl Daisy of the A Daily Dose of Daisy blog posted these photos from her visit to Bandera this week.
The Knoxville News Sentinel posted this photo online, where "A youngster enjoys festivities in Bandera, Texas, the 'Cowboy Capital of the World.'"
Entertainment
Corina is one of many who have given Bandera alumnus Charlie Montague a universal thumbs-up for his concert Saturday night at the 11th Street Cowboy Bar celebrating the Bandera High School All Classes Reunion. Montague's debut CD is available at The Cowboy Store in Bandera. I've continued to listen to the CD this week, and it just keeps growing on me – the robust variety and richness of the music just keeps me coming back for another listen. If you like country music, you're doing yourself a disservice by not grabbing this CD and supporting a Bandera High School graduate living the dream.
Aaron Peavy shared on his Facebook that he picked up first place in the modified division and third in the stock division during the Belt Sander Races last weekend at Jake's in Pipe Creek. Between the belt sander races, snails (as in, to eat), free Wi-Fi internet access, and "kar-dee-oke," Jake's is landing some impressive punches in the fight to differentiate itself from the rest of Bandera County's watering holes. I admit with shame that I have yet to attend my first belt sander race. I don't think my photography portfolio (also, here) will be complete until I do, so it's definitely on my Life To-Do List.
The Greek Tavern picked up a five-star (best) review over on KENS5.com's Buy Close to Home yellow pages. Bulletin + Outlaw intern Megan Greebon wrote about the restaurant for the newspaper last month.
The Silver Sage Corral Adult Activity Center will celebrate its 25th anniversary with an open house event this Saturday, 4-7 p.m. I'll be there snapping photos for the newspaper.
Charlotte Browning of the Longhorn Saloon posted to her Facebook that the Cowboy Luau Longhorn River Rodeo will be held this Saturday at 2 p.m. She says there will be rodeo events on kayaks and tubes.
If anyone can tell me the story behind Fast Buck's song 'When The Moon Goes Does On Medina Lake, I'll Be Going Down On You," please don't hesitate to share. Randy Condran via Facebook linked over to this song.
Reported by The Outlaw
If you're a friend on Facebook, you got the first link to my blow-out Bandera County photo update here on Bandera.net, got the preview of this week's headline story for the Bulletin a day before it hit the web, found out where you can buy photos of Bandera High School's graduation ceremony, saw the first photos (and so far, only published photos) of Charlie Montague's concert at 11th Street Cowboy Bar, saw a live photo update from the Bandera All Classes Reunion, and submitted your picks for Most Interesting Person on your Facebook Friends List for an upcoming feature story.
If you follow me on Twitter @BanderaOutlaw, you were linked over to the amazing Express-News images of last week's flooding in Comal County as soon as they were posted online, learned that PB&J is a staple in the newsroom at the Bandera Bulletin, were linked to the WOAI News 4 story on a missing two-year-old who was found with the family dog, and were linked straight to the Bandera County photo blow-out update at Bandera.net when it went live.
For all the latest Bandera County buzz, catch up with me on Facebook, Twitter @BanderaOutlaw, here on the home of the Bandera County Outlaw at Bandera.net, or weekly in the Bandera Bulletin newspaper.
If you have news to share, drop me a e-mail, hit me up on Facebook, or call/text me at 830-688-1564. If you'd like to comment on this week's news, feel free to speak your mind below or over on Facebook.
Tags: Bandera, Bandera High School, Medina, Medina High School, photos, softball, Sports, Utopia, Utopia High School
6 Responses to "Bandera County Online News Roundup for Wednesday, June 16, 2010"
I followed the link to further read the story on animal control- such a sad sad story on those poor animals!

on a happier note we will absolutely be partaking of the Medina River this summer pack a picnick & head to the river we all go!

another great page James!

Thank you for your readership Janice! What would you like to see more of, or less of, in the weekly roundup?

Honestly I like the way you have it set up, I love the links you added that was good, and I love that you have a good variety of information, its like getting the highlighted parts of the newspaper, twitter & FB all in one tidy little package! –

(My fav reads are about Bandera County of course but its good to get the whole mix.)

If you get the story behind Fast Bucks song, please share haha!

I did a little research on that song…Yea maybe I dont wanna know!
I thought for sure it was just pun but Im thinking NO! :-/

Thanks Janice, I appreciate your input!

No idea if the song is Safe For Work, but I'll get to digging on it. It's a…colorful…part of our pop culture.

[...] Robyn Barnes wrote about how prospective luxury homeowners are setting their sights on Pipe Creek, Bandera and Medina in her article, "Hill Country Flight Moves West." This coincides with Forbes Magazine naming Bandera County as the sixth most popular place in the United States where America's money is moving, reported here last week in my June 16 roundup. [...]
Leave a Reply