Blow-out photo update -> Medina, Bandera, Utopia graduations, plays, softball, rodeo, and more
Author: James Taylor | Filed under:
Community Journalism
,
Sports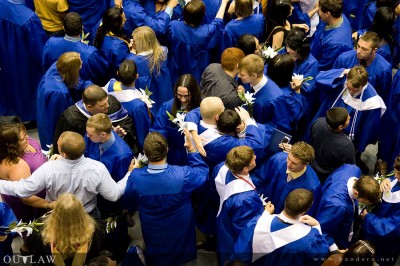 I spent today processing photo albums for the month of May after getting the newspaper out. There's plenty of Outlaw photojournalism to be enjoyed here, so I'll get right to the links in the Bandera.net Gallery.
—
Quicklinks: Graduation ceremonies for Bandera High School, Medina High School, Utopia High School.
—
From the Bandera.net Gallery:
Bandera Lady Bulldogs softball vs. Ingleside Mustangs – May 8, 2010
Transformer Blow Out near Mansion in Bandera – May 8, 2010
Fox Family Living Center Ribbon Cutting – May 13, 2010
Medina One Act Play presents Dancing at Lughnasa – May 20, 2010
County Judge Richard Evans signs Boating Safety, Older Americans Month Proclamations – May 24-25, 2010
Bandera High School Graduation Ceremony – May 28, 2010
Utopia High School Graduation Ceremony – May 29, 2010
CCRA Memorial Day PRCA Rodeo at Mansfield Park – May 30, 2010
Medina High School Graduation Ceremony – June 4, 2010
Tags: Bandera, Bandera High School, Bandera Lady Bulldogs, Medina, Medina High School, photos, softball, Sports, Utopia, Utopia High School
One Response to "Blow-out photo update -> Medina, Bandera, Utopia graduations, plays, softball, rodeo, and more"
[...] posted a month's worth of fresh Bandera County news and event photo galleries here on Bandera.net Monday night. Includes Bandera, Medina, Utopia high school graduations; Lady [...]
Leave a Reply