Photos: Medina Bobcats football scrimmage vs. La Pryor – Aug. 12, 2011
Author: James Taylor | Filed under:
Sports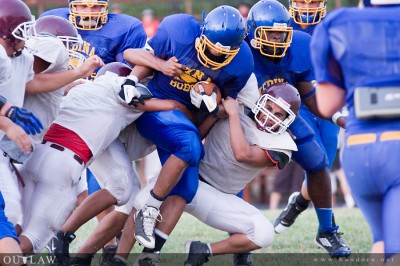 Medina Bobcats football looking very solid this year! Enjoyed about an hour of their scrimmage against La Pryor tonight while shooting alongside photographers Laura Sparks and Ginger LeStourgeon. There were plenty of extra referees on the sidelines doing some pre-season practice of their own, and they were good fun to chat with – these guys are vastly knowledgeable about the game and their role in it. All good fun.
You can find all of my photos from the game in the Bandera.net Gallery:
Medina Bobcats football scrimmage vs. La Pryor – Aug. 12, 2011
Tags: football, Medina, Medina Bobcats, Medina High School, photos, Sports