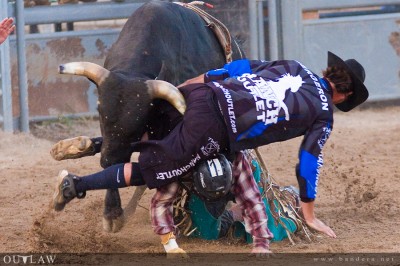 I've considered adding a feature to Bandera.net linking out to Bandera County news and featured finds from across the Internet. In keeping my ear to the ground as a community journalist, I'm always finding interesting tidbits here and there on the web – I figure other locals may find them worth a visit as well.
If you would like to see more of this content on Bandera.net, drop me a line on Facebook, leave a comment on this post, e-mail me at James@team-outlaw.net, or call/text me at 830-688-1564 and let me know!
Bandera County Top Stories
Probe of Bandera sheriff's office continues – Express-News writer Zeke MacCormack reports Sheriff Weldon Tucker 'dodged questions' yesterday about whether or not he took a county boat out for a fishing trip. Reader comments below the story, equally pointed.
Headlines from BanderaBulletin.com include: Horse and rider killed in car crash, Bandera mom appears on Dr. Oz Show, Iraq veteran commits suicide. Managing Editor Jessica Hawley-Jerome wrote the car crash and Iraq veteran stories, and I wrote the Bandera mom story – the subject of which is my own wife! (Click here to view Jacklen Taylor's segment on the Dr. Oz Show, about the 7:30 minute mark)
Tootie Pie Company, formerly of and originated in Medina, TX, was featured on WOAI's San Antonio Living last week. Video after the link.
Other Bandera County Clips from across the Web
In The News
Bandera native Jack M. Hunter was featured in the Palestine Herald for his artist reception to be held at The Museum for East Texas Culture. He was born in Bandera in 1930.
The National Weather Service held a gathering at the Bandera EMS training room last week in search of Bandera County weather spotters, reported by KSAT12.
Videos
Welcome to Utopia – Utopia, TX is shown much love via YouTube by New York writer Karen Valby, who did a great piece for Entertainment Weekly in 2006 and since turned her experience there into a book, Welcome to Utopia: Notes from a Small Town. I remember reading the EW article when it came out, but I didn't know a book was forthcoming. I'll definitely order a copy from Amazon so I can see what a New Yorker picked up studying Buffalo country, just past the west end of Bandera County. I'm excited by the prospect of turning her experience here into a feature story for the paper.
YouTuber ML66B posted his video of Jake Hooker and The Outsiders performing Green Snakes on the Ceiling at Arkey Blue's Silver Dollar Saloon in Bandera, TX.
YouTuber medicmaw1 posted this video from Bandera County Relay For Life featuring music composed by Bandera High School choir director Catherine Holmes, performed by the Bandera High School Jazz Choir, as well as photography and video by Monica Wilson, Spencer Smith and Bill Lamb.
Don't miss this video from Medina Lake last weekend of a 17 year old fellow, who cannot swim, diving into the water with a life jacket and proceeding to freak out. I never learned to swim, and I guarantee, I'd have been flailing like Vishnu in a fly-swatting contest.
Photos
KENS5 YouNews user mercysmith submitted this photo of an "historic tree gone with the wind" in Bandera, blown over during the Wednesday evening storm that violently blasted across Texas with gusts up to 60mph.
Photographer and tweeter jshelton754 shared this gorgeous sunset photo of Medina Lake after Wednesday's storm passed.
Tweeter StockC of Dallas, TX shared this photo of the soda fountain at the Bandera General Store.
Dean Hamby was featured with his low-fence axis taken near Medina, TX, with beams of 33″ and 32.5″ – shared in the Trophy Room on AllAboutExotics.com's Facebook profile.
San Antonio journalist-turned-PR account executive Natalie Tejeda was spotted floating Medina Lake last weekend.
Austin tweeter Barbara Jansen shared this photo of Wednesday's stormy skies over Utopia, TX.
Entertainment & Events
11th Street Cowboy Bar of Bandera was given an anonymous five-star review on Where.com, highlighting the venue as a great bar, dance hall, and "must-visit on steak night." The bar's weekly Wednesday Night Steak Night event has been featured in media across the country.
Texas musician Josh Peek tweeted about upcoming shows in Pipe Creek, TX, and Utopia, TX.
Facebook & Twitter
Local pastor Ed Sullivan tweets this week about the storm blowing out a slew of electronic equipment at church.
Mico tweeter Brian Huffman shows some #FollowFriday love on Twitter to myself and KSAT reporter Jennifer Dodd. Thanks Brian!
#FF love for @Esquiremag keeping us men sharp in intellect and fashion, and @BigRedinTejas for his unyielding social and sports commentary.
Via their Facebook, the Bandera Convention & Visitor's Bureau shares that tonight, the first Friday of the month, Fat Boyz at Bandera Village is hosting their monthly car lovers gathering. Also, Twin Elm and BR Lightning Ranch are turning up the action with their weekly summer rodeos every Friday.
Reported By The Outlaw
If you've friended me on Facebook, you learned about Bandera Class of 2010 graduate David Kassai releasing his first single on iTunes – Until The Music Dies; you saw live photo updates from Bandera City Council and Bandera County Water Board; my own storm photo from Wednesday as well as live reactions from Bandera County folks to the big storm; my photo updates from the 2010 CCRA Memorial Day Rodeo; and you got to read and participate in a lively discussion about teen drinking and consequences (NSFW – language).
If you follow me on Twitter @BanderaOutlaw, you got a play-by-play of the big storm that hit Wednesday, with updates from here at the Bulletin office and off the police scanner, from fellow Bandera County Facebookers and Tweeters, as well as retweets of the San Antonio broadcast and print journalists covering the storm; also, you saw a live top-story brief from Bandera City Council, and updates from Utopia High School and Bandera High School graduation ceremonies.
For all the latest Bandera County buzz, catch up with me on Facebook, Twitter @BanderaOutlaw, here on the home of the Bandera County Outlaw at Bandera.net, or weekly in the Bandera Bulletin newspaper.
If you have news to share, drop me a e-mail, hit me up on Facebook, or call/text me at 830-688-1564. If you'd like to comment on this week's news, feel free to speak your mind below or over on Facebook.