43 dachshunds seized in Utopia puppy mill bust
Author: James Taylor | Filed under:
Community Journalism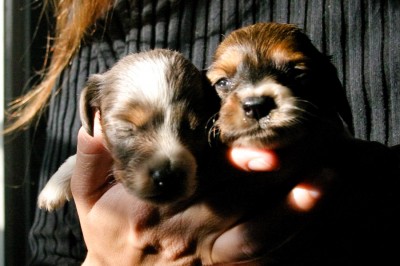 Update: Read Bulletin Managing Editor Jessica Hawley-Jerome's story on the dachshund rescue, now posted to BanderaBulletin.com. Four children living in "deplorable" conditions were also taken from the puppy mill property by Child Protective Services.
—
We received breaking news this morning of a massive seizure by Bandera County Animal Control. Bulletin Managing Editor Jessica Hawley-Jerome and I drove out to the pound to talk with officials and take photos; the result you can see in the surrounding photos.
These sweet-tempered little dachshunds, 43 of them (the largest seizure ever in Bandera County, according to officials), were rescued from an alleged puppy mill in Utopia.
It was a blessing to cross paths with these little fellows and ladies and take their photos for the newspaper. You can see more photos and read Jessica's story in the Wednesday edition of the Bulletin.
Visit the Bandera County Animal Control web site for information on how you can help give animals a better future here in our community.
6 Responses to "43 dachshunds seized in Utopia puppy mill bust"
Oh my! I think I must have those sweethearts sleeping in Jessica's arms!

As my old news editor Newt Renfro would say, "Take two; they're small."

What can I do to help out? Would I be able to adopt one of them?

Diamond Dachshund Rescue of Texas now has these dachshunds. They are in need of donations, foster homes and adopters. http://www.ddrtx.org

[...] Scott from Diamond Dachshund Rescue of Texas sends word via comment on our original coverage that the dachshunds rescued last month from a Utopia puppy mill are now in their [...]

I bought a puppy from this couple in March 2009. I should have been suspicious when they wanted to bring the puppy to me.Their car was knee deep in trash. The puppy was very ill. A 250.00 puppy ended up costing me over 800.00 in vet bills. I wouldn't not trade her for the world even though I wonder some times if she is inbred, she has severe anger problems. My other 2 daschunds are scared of her. I learned my lesson the hard way.I am glad they have been shut down. I hope CPS continues to monitor them for the sake of the children. The animals are safe now but the children still have to live there.
Leave a Reply