Bandera Bulldogs featured in Austin American-Statesman
Author: James Taylor | Filed under:
Sports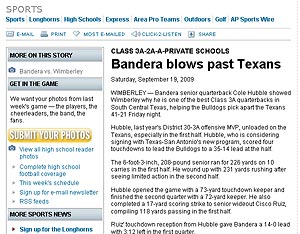 I'm a week behind, but I just came across the Austin American-Statesman's coverage of the Bandera-Wimberley football game from Sept. 18.
Great write-up and a set of 10 very nice photos from Statesman intern Jordan Smothermon. He was working the sidelines hard throughout the game to get a set of 10 top-quality shots. I got to chat with him briefly and he said he has been a sports shooter since he first took up professional photography.
Where do you guys get your Bandera, Medina and Utopia sports story and photo fix? In the papers or online? Where? Leave a comment below on this blog post, hit me up on Twitter @banderaoutlaw, e-mail James@team-outlaw.net, or call/text me at 830-688-1564.
Tags: Bandera, Bandera Bulldogs, football, photos