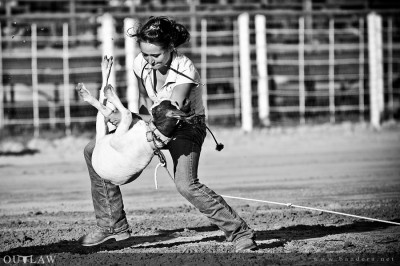 Winds and clouds are picking up outside the newsroom this evening as the effects of soon-to-be-hurricane Alex hit the Hill Country. Let's jump right into the news.
Have news to share? Post a comment below, drop me an e-mail, or call/text me at 830-688-1564.
(Above photo, Bandera athlete Roslyn Reeves flips a goat during the goat tying event of the Bandera County 4H Youth Rodeo held at Mansfield Park on June 25. Click for full size.)
Bandera County Top Stories
A 32-year-old San Antonio man lost his life on Park Road 37 last week after he was clocked doing over 90mph by a state trooper. Daniel Estrada burned to death in his '03 Corvette after losing control while possibly eluding police: the Bulletin was told it was "not labeled" a high-speed pursuit, but quoting the incident report, the Express-News reports that Estrada failed to negotiate a curve during an "attempt to elude police at a high rate of speed."
PR37 was closed for hours as emergency responders tried to clean up the wreckage.
Read the Bulletin's coverage here, and check out KENS5′s video coverage here.
—
Bulletin Managing Editor Jessica Hawley-Jerome leads off the newspaper this week with a story about the friendly competition turned war between La Cabana Mexican Restaurant and the now-defunct M&M Diner in Lakehills. Accusations abound of trespassing, slander, vandalism, and all manner of Machiavellian discord
Other Bulletin headlines include:
Bandera County In The News
Twenty-six years ago, Bandera attorney Billy Walker's sister was raped and murdered. KABB Fox 29 News last week featured an interview with Walker about what happened, and why he and his family are working to keep Gerald Rodger Sorensen behind bars. See the Bulletin's coverage in last week's paper, here.
Baxter Adams, owner of Love Creek Orchards in Medina, Texas, was featured Thursday by Country World Newspaper in "Apples to Apples: Orchard sets the standard" by Clay Coppedge. The extensive interview focuses on how Adams has overcome challenges from both nature and national competition to be a successful apple grower in the Texas Hill Country. "It keeps me working year-round, but that's the way I like it because I really do enjoy it. It's a blessing to get up every day and be able to do what you love doing."
KENS5 News had great coverage of this year's Riverfest on their web site, via two slideshows by photographer Jeff Anastasio: one for the overall event, one for the cool autos of the car show. You can see the Bulletin's photo page in the lifestyles section of this week's paper and some extras in their online album.
The Wimberley Texans are the team to beat in Bandera High School's 26-3A district, according to Christopher Lyke of TexasHSFootball.com, as reported in the San Marcos Daily Record.
The Silver Spur Dude Ranch, Mayan Dude Ranch, other dude ranches and the Cowboy Capital were all given star treatment in the July edition of Texas Highways Magazine. The article says Bandera "still holds the reins on the state's 'horsepitality' industry."
Bandera County was named with Blanco, Kendall and Kerr counties as having one of the highest per-acre median prices ($8,375) in the Hill Country by the Express-News. "The best properties are not being discounted," one source said. Read Jennifer Hiller's article, "Buying Land," online.
Other Bandera County News Snippets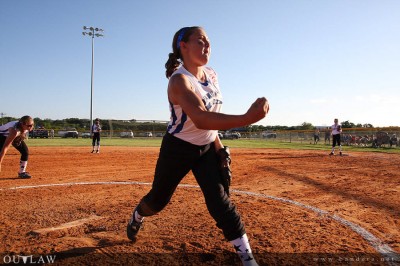 (Above photo, Krystian Osbourn pitches for the Bandera Little League 12U softball team during their Friday evening match against Uvalde.)
Hill Country Elementary's Scholars Program presented the play Stellaluna earlier this month. See the story and photo on the Bandera ISD web site.
The Hill Country State Natural Area near Bandera was given a glowing review by Pam Elliott over on PeruvianHorseWorld.com.
A visit to Bandera and Utopia is listed as one of the many activities participants will enjoy during the two-week English in Austin! Program, a training program to help those interested in developing their communicative skills to give presentations or more effectively communicate in any environment outside a language classroom.
According to folks over on TexasFishingForum.com, the night fishing at Medina Lake is pretty lonely this time of year.
There's always plenty of interesting historical Bandera ephemera to be found on eBay. Just search for Bandera, TX. Seen this postcard of a Bandera cowboy punching cattle on the back of a massive Jack Rabbit? You ain't lookin' hard enough, pardner!
Start making plans now for the upcoming National Day of the American Cowboy celebration in Bandera County. Ranch rodeo, cowboy breakfast, Western arts and crafts, music, dancing and the usual Bandera fun.
Blogger Jozlin writes here about her beginner's experience running at the Bandera High School track. I'm a fan of the jogging at the BHS track whenever I want a workout and Bandera Fitness is closed.
Do you have your ticket for the Reading Express summer program at the Bandera County Library?
The Bandera County Board of Realtors blogs over on WordPress.com.
Want to know what events are upcoming in Bandera County for the month of July? Visit the Bandera Convention & Visitor's Bureau calendar of events page.
Videos
Dale Green of Bandera is both a Twitterer and an aspiringfilmmaker on YouTube, producing humor and horror shorts. Don't miss the perfectly edited and acted Emergency Broadcast System #1.
YouTubers ka07056 and kiahkimpo each posted some fun-on-the-water videos last week, the first of 44-year-old Keith barefoot water skiing on Medina Lake and the other of a sweet upside down water skiing jump on the lake.
Facebooker Chavela Trumble gave a good review to Rancho Cortez, which they suggested for "a real cowboy ranch experience…really cool, lots of fun for kids too." Also, enjoy this video by YouTuber Slurvas of his group's trail ride at Rancho Cortez last week.
Also, don't miss this scuba diving video from 2007 in Medina Lake. "You know how you catch a dorkfish?" "Corndog."
Swedish visitor and YouTuber Slurvas posted last week a series of videos from the Bandera-area rodeos.
Photos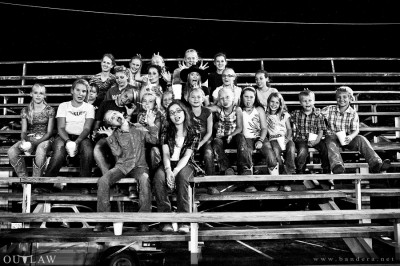 (Above photo, the kids get to get goofy for the camera at the end of the Bandera County 4H Horse Project Youth Rodeo at Mansfield Park held June 26.)
Here on Bandera.net this week, I posted over 400 photos from the Bandera County 4H Horse Project Youth Rodeo at Mansfield Park this weekend, as well as my album of images from the Bandera All Classes Reunion with Charlie Montague and friends.
YouTuber JT1008 posted a photo slideshow of his motorcycle ride through the Hill Country, including Bandera.
Judith McCollum posted this photo of Miss Clara Mae from their visit to the Lost Maples State Natural Area in Vanderpool, Texas.
Facebook & Twitter
KENS5 News anchor Jeff Vaughn tweeted his enjoyment of a visit to the Hill Country last weekend, including Medina and Bandera.
Triple H Equitherapy of Pipe Creek tweeted about their June 2010 Newsletter.
Lindsay Hovel of Los Angeles tweeted of her visit to Utopia, "…where morning rush hour means waiting for a herd of cattle to cross the road on your way in to work…" Apparently the scorpions are also keeping her on her toes, a common complaint across the county this summer.
Bandera Electric Coop. tweeted this week some ways to save on your electric bill, as well as a job notice for a Key Accounts Specialist.
The Pear Ratz, South Texas Revolution, Julius Henry Arlt vs. The Sinister 6ix, the Pauline Reese Band, and Josh Peek all Facebooked their upcoming shows in Bandera County.
Reported by The Bandera County Outlaw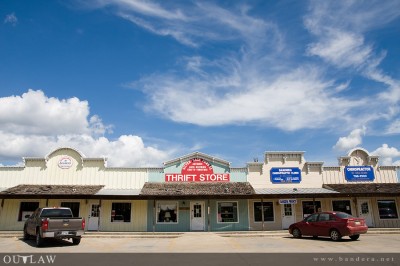 (Above photo, the Silver Sage Corral Thrift Store in the Bandera Village shopping center.)
If you're a friend on Facebook, you: heard my recommendation for awesome quesadillas and cielo, tiera y mar in Bandera (Mi Pueblo Restaurant!); learned where you can still find online my archived photos from 2007 and earlier; got the tip to visit SteamPowered.com for their Fourth of July computer games sale; shared your recommendations for news to feature in this week's Bulletin newspaper; had the chance to assist on a modeling photo shoot here in Bandera; were linked to my photos of the Bandera County 4H Horse Project Youth Rodeo last week, and saw live photos posted from the event; participated in a lively discussion about what books you're now reading; saw my live photos from the five-hour line at the La Cantera Apple Store for the iPhone 4 launch; read my mini-review of the new iPhone 4; read my story for the Bulletin about BHS senior/singer/songwriter David Kassai and his new single on iTunes; learned where the best barbacoa tacos in the world can be found (Bit of Mexico); saw my photo gallery from the 2010 Bandera All Classes Reunion with Charlie Montague and friends; and learned what business in Kerrville serves some of the best sizzling hamburgers (Brown's Drive-in Burgers).
If you're tweeting along with me on Twitter @BanderaOutlaw, you: saw my recommendations to KENS5 News anchor Jeff Vaughn for best coffee, burgers and tacos in Bandera; got up-to-date retweets about tropical storm/hurricane Alex from the San Antonio meteorologists; were linked to the Washington Post article on the Supreme Court's ruling re: Second Amendment as soon as it was posted; heard about Bandera County being added to Monday's flash flood watch; were linked to an awesome photo story on 9-pin bowling in the Hill Country by Dan Oshinsky of KENS5; found out via fellow Bandera County tweep @Janice_830 that HEB had Honey Bunches of Oats cereal on sale for $1.11 with coupon; were linked to the KENS5 coverage of the Corvette wreck on Park Road 37; were first to see my photos from the Youth Rodeo at Mansfield Park, including live photos from inside the arena; saw live updates from Riverfest; learned my #FridayFollow recommendations was @MissionsMiLB for their fun, valuable, interactive tweets on San Antonio Missions baseball; saw live tweets of police activity from over the scanner; saw my photo for the Silver Sage Corral's web site of their Thrift Store in Bandera Village; saw live tweets from the iPhone 4 launch at La Cantera's Apple Store; were linked to the Country World Newspaper story on Love Creek Orchards in Medina as soon as it went online; were linked to the Bandera ISD Back To School Headquarters; were linked to KABBFOX29′s video coverage of the Wright murderer's potential parole; were linked to my album of photos from the Bandera All Classes Reunion as soon as it went live; and saw a newspaper headline "you have to see to believe."
For all the latest Bandera County buzz, catch up with me on Facebook, Twitter @BanderaOutlaw, here on the home of the Bandera County Outlaw at Bandera.net, or weekly in the Bandera Bulletin newspaper.
If you have news to share, drop me a e-mail, hit me up on Facebook, or call/text me at 830-688-1564. If you'd like to comment on this week's news, feel free to speak your mind below or over on Facebook.
Tags: Bandera, Bandera High School, Medina, photos
One Response to "Bandera County Online News Roundup for June 30, 2010"
I cant believe I missed this issue! lotta drama! Im gonna have to join FB just to read all your extras!

Great job James!
Leave a Reply