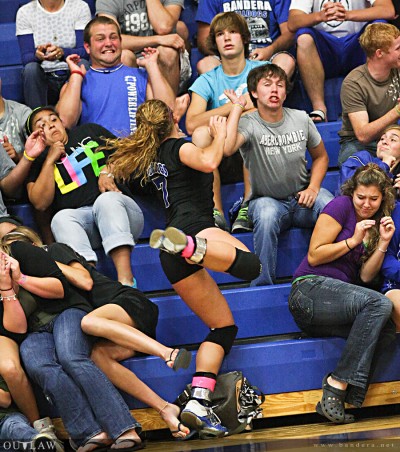 (Above, fans duck and cover as Bandera Lady Bulldog Kaylee Reeves dives into the stands to save the point for her team. Despite her heroic effort, Bandera lost to the Wimberley Lady Texans in their Oct. 5 match.)
I won't delay in setting you right on the path to Bandera County photo goodness, mates. Below enjoy a month's worth of sports and event photography albums from across the county, with links taking you right to the Bulletin's DotPhoto.com account. I've also included my personal favorite picks from the last 30 days.
Thank you, as always, for supporting The Outlaw!
Photos from the Sept. 15, 2010, edition of the Bulletin
- Medina Lady Cats volleyball vs. D'Hanis Cowgirls – Sept. 7, 2010
- Bandera Bulldogs football vs. Llano Yellow Jackets – Sept. 10, 2010
Photos from the Sept. 22, 2010, edition of the Bulletin
- Medina Lady Cats volleyball vs. Leakey Lady Eagles – Sept. 18, 2010
Photos from the Sept. 29, 2010, edition of the Bulletin
- Bandera Bulldogs JV football vs. La Vernia Bears JV – Sept. 23, 2010
- Medina Lady Cats volleyball vs. Marion – Sept. 24, 2010
- Medina Bobcats football vs. Marion JV Halftime Blackout – Sept. 24, 2010
Photos from the Oct. 6, 2010, edition of the Bulletin
- Utopia Lady Buffs volleyball vs. Medina Lady Cats – Sept. 28, 2010
- Bandera Lady Bulldogs volleyball vs. San Antonio Hawkins – Oct. 1, 2010
- Bandera Youth Soccer – Sharks vs. Shooting Stars – Oct. 2, 2010
Photos from the Oct. 13, 2010, edition of the Bulletin
- Bandera Lady Bulldogs volleyball vs. Wimberley Lady Texans – Oct. 5, 2010
- Medina Bobcats football vs. Nueces Canyon Panthers – Oct. 8, 2010
And below, the Highlight Reel:
Tags: Bandera, Bandera Bulldogs, Bandera Lady Bulldogs, football, Medina, Medina Bobcats, Medina Lady Cats, photos, Sports, volleyball