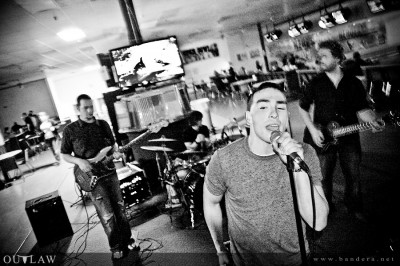 Bandera, like any small town, produces more than its share of bands featuring talented young musicians. Unfortunately, most disappear as quickly as they form, music drifting into memory.
Bella Fool, I can confidently say, is the best band I've heard come out of Bandera since Rune. They are the small-town equivalent of a supergroup: Gilbert Rivera on vocals, Christopher Peterson on guitar, Chris Byman on drums, Erik Hillman on bass. If I were to hand pick a set of talents, these guys would stand out on any list.
I had the chance to photograph Bella Fool at their weekly Bandera Bowl performance Thursday night, which has to be one of the most unique venues I've shot at. My full set of photos can be found in the Bandera.net Gallery:
Bella Fool at Bandera Bowl – Feb. 25, 2010
You can catch up with Bella Fool's music on MySpace and connect with the band on Facebook.
Don't miss out; their Bandera Bowl weeklies are must-see, cover is cheap and includes bowling for hours, and there's a big Bandera presence there for the band.
Below, Bella Fool's great acoustic performance on KABB Fox News. Their musical magic here shows talent far beyond their years.