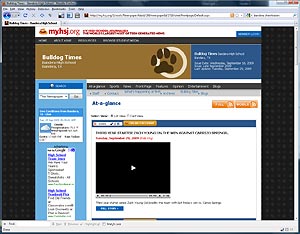 I'm really enjoying what Jimmy Monroe, Emily King, and the Bulldog Times staff are putting out with their online edition. Lots of video content and the freshness that student journalism has to offer.
Multimedia is the future of journalism whether or not us ink-stained wretches are happy about it. I've always been a tech- and net-friendly guy, so I for one am excited about the new opportunities unfolding for delivering news and storytelling in new and important ways.
I've long advised the journalism classes at Bandera and Medina both on camera gear purchases, and have even given presentations to the Bandera class. It's always great to see how students new to the game of journalism interpret and present their news.
I'm a journalism junkie and just finished watching the entire first season of The Paper on iTunes. If you want to see what high school journalism is like at the largest high school in the country, it's a great documentary put on by MTV.
Some other favorite TV and movie interpretations of journalism include State of Play with Russel Crowe (which I rented recently over at Video Outlet), The Wire's final season, and of course the old TV show Lou Grant.
The dead-tree newspapers of Bandera County have anything but multimedia or social media on their minds, so at this point, the Bulldog Times is leading the local path toward Journalism 2.0.
(Bulldog Cheerleader Senior Co-Captain Holly Garwood's response to reporter Randi Thomas' question about what the cheer team has learned "after a hard year" is priceless: "Our team has learned what not to do." Love it!)