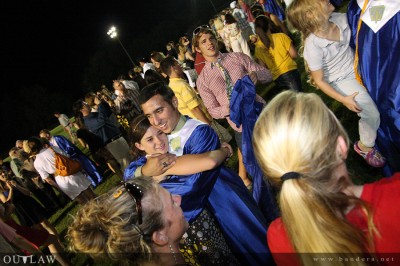 After a great response to last week's Bandera County online news roundup, I'm happy to carry on this weekly feature on Bandera.net.
If you would like to see more of this content on Bandera.net, drop me a line on Facebook, leave a comment on this post, e-mail me at James@team-outlaw.net, or call/text me at 830-688-1564 and let me know!
Bandera County Top Stories
Leading off this week with the Bandera All Classes Reunion coming this Saturday, June 12, 8:30 p.m. at the 11th Street Cowboy Bar. I got to preview headline singer and Bandera boy Charlie Montague's debut CD when I interviewed Byron Boyd this week for the Bulletin, and it should be one heck of a show. Read my story for the Bulletin online, then visit the Facebook event page to see who all will be there (340 confirmed guests so far, including myself).
I'm sad to report former Bandera High School softball coach John Qualls has died, as reported in the Mount Pleasant Daily Tribune. Facebook lit up this week with kind words and tributes to whom many called their most influential coach. Services will be held Friday in Mount Pleasant. Coach Qualls was always good to us newspaper folk, and even had me come out and take photos of his softball girls at batting practice so he could better show them how to improve their game.
Headline news this week from BanderaBulletin.com included Bandera grad to rock class reunion, Escaped prisoner captured (found hiding under his bed!), Bandera votes itself a Film Friendly Community, Grand juries take no action on sheriff, and the controversial No speech for senior class president.
In sports, the Bulletin had pieces on the Utopia girls taking fifth at the state golf tourney, a recap of the Pitch, hit and run competition, and an update from Bandera ISD Athletic Director Larry Prince on summer camps for athletes.
Other Bandera County Clips from across the Web
Videos
Nothing new courtesy of YouTube, but if you haven't seen them already, check out the very nice, professional ResortsandLodges.com video promoting the Twin Elm Guest Ranch, which is hosting rodeos every Friday night at 8 p.m. I was born and raised in Tarpley, so driving past the dusty rodeos at the Twin Elm arena is a memory that goes back to my childhood.
Travel Texas did a great video on Bandera and Wimberley back in October 2009, featuring pickin' by "honkey-tonker" Arkey Blue, OST's John Wayne Room, and trick ropin' by Kevin Fitzpatrick. Those of us who have lived here all our lives take for granted the world-famous menagerie of personalities we host here in the Cowboy Capital.
Photos
Veronica from Orlando tweeted her photo of the old haunted Silver Spur Dance Hall
Lakehills and San Antonio photographer Robert Hillis tweeted this photo of a summer night on Medina Lake. You can view Robert's great photography at Memories of Your Lifetime Photography.
Entertainment & Events
Art and Lisa, Bandera County singers nominated for Vocal Duo of the Year by the Texas Music Awards this year, announced on Facebook that they will be performing tonight (Thursday) at Blue Gene's at 8 p.m.
You can always stay ahead of Bandera County events by keeping an eye on the Bandera Convention & Visitor's Bureau events page. Subscribe to their newsletter as well for monthly previews of what events are coming up in the county. They recently redesigned their entire web site for the first time in as long as I've been visiting them online, and the Western styling is great. Visit their home page for links to their Facebook and Twitter accounts as well.
Facebook & Twitter
Speaking of which…
Hill Country Travel Center posted on Facebook about Bandera as a good destination for Father's Day fun.
Bandera Electric Coop. tweeted about their 2010 scholarship winners. Bandera County recipients included Karley Griffin and Sean Scott from Bandera High School, Mary Rizzi from Medina High School and Christopher Vanderveer of Tarpley from Utopia High School. Two college students from Bandera, Ashley Jennings at UT-Austin and Juraluck "Best" Songsangkhan at A&M-College Station, also received scholarships.
Eric from Los Angeles got stuck in Bandera, according to his Facebook, and walked into one of our local saloons to find cowboys playing poker and watching So You Think You Can Dance. One of his friends quipped, "I'm not even sure you could get a country song out of that."
Bandera real estate agent Larry Wood and photographer Stephanie Hill of Calamity Jane Photography are regular tweeters. Visit their profiles for fresh Bandera County tweets.
Reported by The Outlaw
If you're a friend on Facebook, you were the first to see my photos from last week's violent wind and lightning storm; saw my photo from a motorcycle wreck on Hwy. 16 N and participated in a lively discussion about helmet laws; read about the Express-News' annual Reader's Choice special, with link to their awesome online best of the best map, and talked about the best food around Bandera County; and were one of the first to hear about the sad passing of former Bandera softball coach John Qualls.
If you follow me on Twitter @BanderaOutlaw, you heard about the drunk cowboy thrown out of the Medina High School graduation ceremony; discussed how to scorpion-proof your home; stayed ahead of Tuesday's weather; heard about the Freedom Rally in Hondo; and got my recommendation for good eats in Hondo, highlighting the Hermann Sons Steak House (their Mexican chicken fried steak is unique and delicious).
For all the latest Bandera County buzz, catch up with me on Facebook, Twitter @BanderaOutlaw, here on the home of the Bandera County Outlaw at Bandera.net, or weekly in the Bandera Bulletin newspaper.
If you have news to share, drop me a e-mail, hit me up on Facebook, or call/text me at 830-688-1564. If you'd like to comment on this week's news, feel free to speak your mind below or over on Facebook.