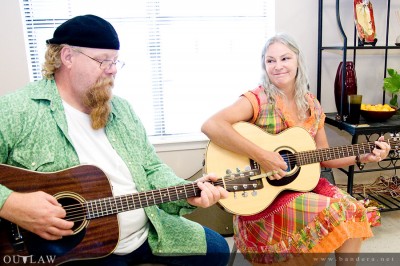 Lots of Bandera County news to report this week, so I'm publishing the weekly news roundup a day early. Have news to share? Post below, drop me an e-mail, or call/text me at 830-688-1564.
(Above photo, Art Crawford and Lisa Beck perform at the Silver Sage Corral 25th Anniversary Open House.)
Bandera County Top Stories
A special grand jury indictment was handed down Monday for Bandera County Sheriff Weldon Tucker, who is accused of abusing his power by misusing a county search and rescue boat.
Tucker's attorney, Charles O. Grigson, issued a press release Tuesday morning stating Tucker is "shocked and disappointed" at the indictment. This news came to us after the newspaper was finished, but we pulled the front page from press and put a late-breaking update in.
You can read that update here, and read the Express-News coverage here.
There are already 20 comments as of Tuesday morning on the Express-News site.
(Update: KSAT 12 News, which broke the story Monday, just posted a reaction story with video online. Reporter Charles Gonzales was in town today doing interviews.)
—
Gunslingers and Bandera, Texas, were shown love this month in Cowboys & Indians magazine, featuring portraits by yours truly of Lew Pewterbaugh (Bunkhouse Leather) and Nalene Dillingham-Stolzer (Mac & Ernie's Roadside Eatery in Tarpley). It was a lot of fun to shoot these two great Bandera County personalities for the magazine.
—
Other Bulletin headlines this week include:
Bandera County News Across The Web
In The News
Riverfest is splashing down at the Bandera City Park this weekend, courtesy of the Bandera Business Association. Lots of good music, good food, beautiful cars, and river fun to be had. Riverfest is one of my personal favorite annual events in Bandera County. Don't miss the Great Hill Country Anything That Floats Regatta.
Bandera baseballer Davis Morrow was honored with a Third Team nod in Class 3A by the Texas High School Baseball Coaches Association for their All-State Team.
Congratulations to the Bandera High School Alternate Graduates Class of 2010! Twenty-three students earned their high school diploma through alternate programs this year via Bandera ISD.
The Bandera County Jail housed an alleged murderer recently, according to the Fredericksburg Standard Radio Post. Brandon Louis Harber, 19, of Blanco, is one of two men charged with the November murder of a Kendalia man. He was transferred to the Bandera jail after being magistrated in Fredericksburg.
Bandera County was featured in the travel section of Turkish newspaper Today's Zaman, earning a full subhead from a story about San Antonio as the most popular tourist city in Texas. The descriptions of our rodeo fun are priceless.
Robyn Barnes wrote about how prospective luxury homeowners are setting their sights on Pipe Creek, Bandera and Medina in her article, "Hill Country Flight Moves West." This coincides with Forbes Magazine naming Bandera County as the sixth most popular place in the United States where America's money is moving, reported here last week in my June 16 roundup.
Bandera Middle School was recently recognized for their "superior implementation" of the Teens in the Driver Seat Jr. High program. The program teaches peer-to-peer safety for young drivers.
Former Pipe Creek resident Kendall Webster was featured last week in the Boerne Star for her role as the Fair Oaks Ranch animal control officer.
What's happening this week in Bandera County? Check out the Bandera County Convention & Visitor Bureau's weekly calendar.
Other Snippets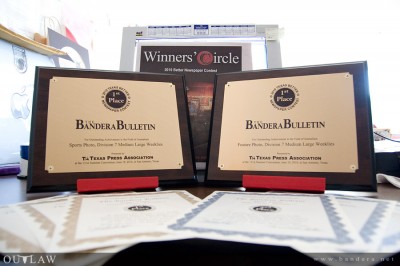 The Bulletin editorial staff, Jessica Hawley-Jerome and I, picked up some sweet awards this weekend at the Texas Press Association's 2010 Better Newspaper Contest. You can read the full list of press awards we won this year over at BanderaBulletin.com.
This year marks my 11th as a career journalist in Bandera County. I started working in this newsroom (back when it was The Review) my sophomore year at Bandera High School, and I have since survived countless owners, publishers, coworkers, and readers both engaged and enraged. Journalism and this community run through my veins as sure as blood.
Thank you for your support and readership as Jessica and I work weekly to bring you the best news coverage in the county.
Topping us for sweepstakes in our division were the Alpine Avalanche and the Smithville Times, both wildly impressive papers next to whom we're proud to be mentioned.
—
Here's an awesome historical find on eBay: an "Old West Bandera County Texas Sheriff Law Badge" that reads "Sheriff Bandera Co Tex William H. Burns 1932 1951."
You can read a bit about Sheriff W.H. Burns on the Old Old News page for Bandera, TX, on TXGenWeb. Burns is featured in two Associated Press stories from the 1940′s, "Medina Man Held in Slaying of Kin" and "Riot in Town, Bandera, Texas." Lots of other interesting news clips from Bandera County's history there, going all the way back to 1885.
As of Tuesday morning, there were seven bids for the badge on eBay. The item is being sold out of Coopersville, MI, and the auction ends on June 25.
—
Did you know you can read the complete text of John Marvin Hunter's "Pioneer History of Bandera County" on Google Books?
Caroline Clemmons blogs over at Skhye's Ramblings about her research around Bandera and the Lost Maples State Natural Area for her book, The Texan's Irish Bride.
The Texas Archeology Society set up camp last week on the Eagle Ford Ranch between Hondo and Tarpley for their annual week-long Field School. Around 400 folks from across the state, professionals through newcomers, came to study the area.
Factoid: The most published article in the category of Recreation and Sports – Rodeo on EzineArticles.com is, you guessed it, about Bandera, Texas, the Cowboy Capital of the World.
The Door In The Wall, Inc., of Lakehills, is a non-profit run completely on community support that uses a multimedia approach to encourage people with disabilities to try new experiences. Their goal is to "educate their able bodied peers to enable them both to live together with new respect and understanding."
Whisper, Stripes McGee, Taz, and Shadow, all kittens from Lakehills posted to Craigslist, may still be available to a good home.
As of June 14, Pipe Creek's Christian Riordan, 12, was the leader in the speckled trout upper coast division of the Academy Sports & Outdoors Starteens Scholarship Trout Division ages 11-17 in the 2010 CCA / Texas Ford Dealers / Tilson Home Corporation State of Texas Angler's Rodeo. That's a lot of sponsorships, but the $20,000 scholarship he could win is worth the plentiful proper nouns. He leads first-runner-up Thomas Shelton, 13, of Houston, with a 7lb 1oz catch.
Videos
Gary P. Nunn's performance this weekend at the 11th Street Cowboy Bar was shown much video love on YouTube by hdbrock34. He has a string of videos posted from Nunn's Bandera show.
This dung beetle is supposedly hard at work in a cow pasture here in Bandera, courtesy of Glowens.
Here's a double backflip into Medina Lake, posted to YouTube by ModHuffVids.
A deer was spotted near Medina Lake this week. There's an axis joke in there somewhere.
Photos

I posted to the Bandera.net Gallery a trio of event photo albums: Bandera County Relay For Life, Bella Fool performing at Blue Gene's, and the Bandera High School Choir Talent Show benefiting Cancer Research.
Want to see some beautiful wedding photography out in Medina, Texas? Visit Peacock Photography's blog to view Kristina and Dave's wedding there.
I found this copy of 100 Years in Bandera, 1853-1953, by J. Marvin Hunter, behind the glass at Half Price Books in San Antonio last week. The sale price was marked at $100.
The Fordging Ahead blog posted Monday a set of photos from their visit to a dude ranch here in Bandera. Bandera superstar steer Oreo is the first photo featured!
Zedekiah12 posted a lovely photo of the Medina River off Three Mile Bridge on Sunday.
Check out the Bing photo and image search results for Bandera, Texas, to get a broad perspective on how the world sees Bandera, and how residents and visitors both have photographed the town and its events over the years. I love this image of a lizard saved at a Bandera golf course from one of those deep outdoor ashtrays.
You can buy a copy of an aerial photography map poster of Lakehills over on eBay for around $11. Same for an aerial photo map of Medina.
Facebook & Twitter
Bandera Electric Coop. tweeted a job opening they have for a Member Accounts Associate. Deadline to apply is June 28.
The Buck Wild Band tweeted their upcoming Aug. 27, 8 p.m., performance at the 11th Street Cowboy Bar in Bandera.
Willow The Dog was tweeted during a dip in Medina Lake this weekend.
Mike Sanders of the Country Boys Union band posted to Facebook his upcoming show at 11th Street Cowboy Bar on Saturday, June 26, 9 p.m. to 1 a.m.
The Toman Bros band posted to Facebook upcoming show dates in Bandera County: June 23, 24 at Bandera Saloon; June 26, rodeo dance in Utopia; June 27, 11th Street Cowboy Bar.
Reported By The Bandera County Outlaw
If you're a friend on Facebook, you were linked over to the Cowboys & Indians magazine article on Bandera featuring my photography, got the breaking news of Sheriff Tucker's indictment, saw live photos posted from the Saturday San Antonio Missions game, got live updates from the Texas Better Newspaper Contest, and were linked to the Bandera County Online News Roundup for June 16 featuring Jessica's story on animal welfare at Bandera County Animal Control.
If you follow me on Twitter @BanderaOutlaw, you saw my photo of the historical 100 Years in Bandera book for sale at Half Price Books, were first in line to read the Cowboys & Indians magazine feature on Bandera when it hit the net, participated in a discussion on journalism ethics re: free meals, were linked to the KSAT 12 News breaking coverage of Sheriff Tucker's indictment and the related Express-News story, got live updates from the San Antonio Missions game Saturday at Nelson Wolff Municipal Stadium, were invited out to the Silver Sage's open house, saw live tweets from the Texas Press Association's summer conference with speakers Robert Rivard of the Express-News and Dem. Gov. candidate Bill White, learned about a two-year-old boy found abandoned in his carseat in Helotes on Friday night, saw my #FollowFriday recommendation of San Antonio photojournalist Johnny Garcia for his live news photo tweets, received live updates from City Council as they chose a municipal judge, and learned what a BMPR is.
For all the latest Bandera County buzz, catch up with me on Facebook, Twitter @BanderaOutlaw, here on the home of the Bandera County Outlaw at Bandera.net, or weekly in the Bandera Bulletin newspaper.
If you have news to share, drop me a e-mail, hit me up on Facebook, or call/text me at 830-688-1564. If you'd like to comment on this week's news, feel free to speak your mind below or over on Facebook.