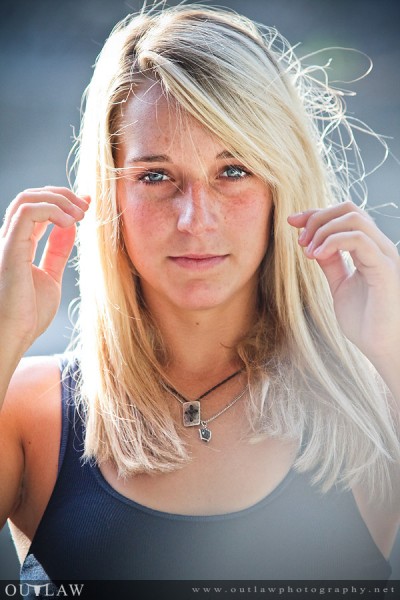 (I was mostly off from the newspaper last week, so no new news photos to share. But I did have a great senior photo shoot with Medina High School graduate Leianna Rich, pictured above! You can view more of my portrait photography work at OutlawPhotography.net.)
Bandera County Top Stories
With National Day of the American Cowboy upon us, most of our editorial space in the Bulletin this week was dedicated to all the info you need to know to get the most of this summertime event put on by the Frontier Times Museum. Grab today's copy of the Bulletin for full event calendar and previews of this weekend's festivities.
My recent headline stories in the Bulletin include:
In sports this week, read about how Bandera Bulldog season ticket holders are going from economy seating to first class.
Have news to share? Post a comment below, drop me an e-mail, or call/text me at 830-688-1564.
Bandera County In The News
KENS5 News has a video follow-up on the big Dirty Diner Feud in Lakehills between M&M Diner and La Cabana Mexican Cafe. Read the Bulletin's background on the story at BanderaBulletin.com.
Here's a scan of Taylor Bruce's article and photos about how "Bandera, Texas: Makes Us Glad We Live in the South" in Southern Living Magazine's July 2010 edition.
Canadian Debbie Olsen of the Red Deer Advocate writes this week about her visit to Bandera County and the Running R Guest Ranch. Great photo slide show included with images from OST, the Frontier Times Museum, and trail riding at the Hill Country State Natural Area.
Over on Facebook, the 365 Things To Do in the Texas Hill Country page features Medina apple-pickin' this week.
Other Bandera County News Snippets
You can read Buck Shannon's often-updated blog from the Flying L Guest Ranch over on Blogspot.com.
Pioneer River Resort of Bandera co-manager Lloyd Randall is quoted in a July 14 article in Woodall's Campground Management, "Heavy Rains Revive Texas Campground Business."
Brick's River Cafe in Bandera got a good 4/5 review over on Yelp.com on Monday. Ashley P. from Chico, Calif., says the Austin sandwich (one of my personal favorites) was awesome and her boyfriend enjoyed his "delicious" broccoli cheese soup and patty melt, but was jealous of a neighboring diner's plate-sized chicken fried steak. When I "get a lil' chicken fried" at Brick's, I'm partial to the pork loin medallions, Texas smashed potatoes, and as always, fried okra.
Peggy and David Koehler blog this week about their to visit the Bandera area, and give Riverside RV Park here a glowing review. "NICE. $20 per night, full hookups, cable and free wifi, also right along the Medina River with miles of trails to walk… Cinder and I took full advantage in the early mornings and late evenings!"
Bandera was chosen by WalletPop.com as one of its "12 American towns with unusual claims to fame" for being the Cowboy Capital of The World.
Read a bit of history about the Sabinal River here in Bandera County over on the Wharton Journal Spectator's web site.
The San Saba News & Star reports their local Church of Christ group visited Camp Bandina Youth Camp near Bandera earlier this month. Photos included!
Romantic fiction and creative non-fiction writer Pamela Thibodeaux blogged recently about her visit to the Silver Spur Guest Ranch here in Bandera. Her newest book, In His Sight, will be published this Friday.
The fine folks at TexasFishingForum.com share their tips for finding the big ones in Medina Lake.
Pick up these collectible dolls from eBay seller wildcherry143 in Lakehills. With one day to go as of July 21, they're going for 99 cents plus $4.99 shipping.
Visit the Luckenbach General Store online to buy your genuine cowhide bottle koozie made by "friends in Bandera, Texas."
Videos
Many thanks to YouTuber SSPitCrewBBQTeam for posting these videos this week of the Wife Carry event at the Medina Lake BBQ Cookoff. They are simply hilarious – I've never attended the Medina Lake BBQ before, but with entertainment like this, I don't know how I could miss it.
YouTuber Chucky4Cheddar and family enjoyed some "Red Neck Water Sports" on Medina Lake this week.
Photos
Enjoy photos from the Shearrer Family's recent visit to Medina Lake on their blog. Don't miss the adorable toddler "making engine noises" on their boat!
Reported by The Bandera County Outlaw
If you're a friend on Facebook, you:
Learned about where to find photography and Photoshop tutorials and classes, both online and around Bandera County;
Read about the casting call for extras for Robert Duvall's new movie "Seven Days in Utopia," being filmed in – you guessed it – Utopia;
Participated in a lively discussion about the sexiest men and women in or from Bandera County;
Discussed the best indie musicians on YouTube;
Were invited to join me for lunch at the Thursday, July 22, meeting of the Business / Medina / Public Relations networking group in San Antonio.
For all the latest Bandera County buzz, catch up with me on Facebook, Twitter @BanderaOutlaw, here on the home of the Bandera County Outlaw at Bandera.net, or weekly in the Bandera Bulletin newspaper.
If you have news to share, drop me a e-mail, hit me up on Facebook, or call/text me at 830-688-1564. If you'd like to comment on this week's news, feel free to speak your mind below or over on Facebook.